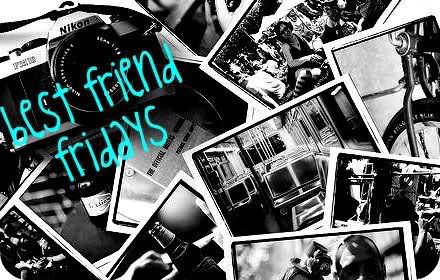 I bet most of you were
waiting with baited breath
at least mildly intrigued about this week's Best Friend Friday ... but see, I was gone. Out of town. Hangin out with my BFF who came to visit. And I'm not nearly advanced enough to be able to schedule a post. So it's coming on Sunday.
Anyway, it's my friend
Alex
. She is fabuloso.
Alex and I met when... actually when i was her T.A. (remember that whole
sports thing
?) Alex was one of my favorite "students". And I think I terrified her some. Well, see... here's an embarrassing thing to admit. I'm tiny--barely 5'2". But Alex...well, she's a
tall
goddess of a girl. So Alex, in all her height and serious gorgeousness, intimidated me some. But we bonded quickly over a love of Boston, Harvard and Lake Winnipesaukee. We further bonded over awesome music (cough**joshua radin**cough) and great senses of humor. She's an amazing writer -- we went to Journalism school together. We've stayed friends ... and well here she is. Debuting on The Siovhan Show.
image from Burnt Mustard.
How did we meet?
In Jason Parker's sports broadcasting class!
What's your first memory of us?
You passing out papers like the Miss Thang you are, and Maddie, Kristin and I wondering how we should act around you.
(Which is so funny--because these girls are now some of my favorite friends and we had so much fun together in that class. And I desperately wanted to be part of their little group. I love social dynamics.)
What's your favorite memory of us/adventure we've had?
Oh, what is there not to know. Wearing harnesses to film BYU Lacrosse, sitting in J Parkers class, many blessed newsroom and BRMB run-ins, and also at the G-hood hottub.
(That harness thing was NUTS. We were put up in a
cherry picker
[like 5 stories]--but because we were operating such big cameras and having to move so much we had to be harnessed in...so we didn't fall out and die. Tender. ::shudder::)
Where are you living right now?
I'm on the East Coast for the summer, but heading back to Provo this fall as a BYU super senior.
(She'e studying so many things ... I'm kind of convinced she'll one day rule the world. Or at least advise the people who do. Plus she's traveling and doing awesome stuff. )
What's your favorite food?
I'm a foodie. I think the only cuisine I won't eat is highly questionable Asian food...
(She eats the most amazing stuff. Her blog has some of her food adventures -- and I get uber jealous when I see it.)
What's your favorite color?
Everything. The rainbow. I don't discriminate- It's why the world is beautiful, right? ha
What's your most used word?
Gnarly/rad/dude/bomb. I'm working on it- I'm from Southern California...so I'm working on my environmental conditioning.
(I say a lot of that stuff and I'm not from there...whoops. But she does have a stellar vocabulary. I can attest to that. Her papers were some of my favorites to grade because she'd use big, fantastic words to describe sports stuff...and it made me chuckle.)
What's your favorite movie?
How to Lose a Guy in 10 Days- it's the reason I went to college.
(Which is funny because I used to write a lot of my News Writing stories to that movie.)
Movie you can recite from heart?
What About Bob.
What's your favorite thing to do in/with your spare time?
Write, Dream, Envision, Read, Exercise to ward off the default artistic anxiety...
(

Read her blog

. She writes about all of this! It's awesome.)
If you could trade lives with anyone for a day who would you chose?
Gisele Bundchen (because Tom Brady is the most gorgeous man alive!)
(That, my friends, is definitely true. And I agree. Mmmm.)
If you could vacation anywhere in the world [free of cost] where would that be?
Denmark- to visit the motherland (my ancestry is half Danish).
Amsterdam, Cologne, St. Petersburg, Cairo, Phuket, Buenos Aires, Tokyo. So many places, so little time!
(Alex is my traveling friend. This girl has been all over! She lived in New York for a summer. She's been to Prague, lived in Spain, been to most of Europe...and she's headed to New Zealand this next year. Hot dang. I hope to travel that much some day. My bet is she'll write a best seller out of one of her travel adventures.)
What is your favorite comfort food?
Mexican food (it's SoCal thing) or baguette with stinky cheese. stinkier the better.
(Mexican food = life.)
What's your favorite quote?
We have nothing to fear but fear itself. -E. Roosevelt ... yeah, I'm naming one of my daughters Eleanor

and the one about self-worth by Marianne Williamson- "Our deepest fear is not that we are inadequate but that we are powerful beyond measure etc etc etc"
(read it
here
.)
What is a funny quirk?
I think being pranked is one of the highest forms of flattery.
(She and I are very alike in some respects. And I have some short sheeted beds ... and floured rooms to confirm that one for you.)
What things do you just absolutely love right now?
East coast! Falling asleep with my sisters to the sound of lake waves lapping up on the shore.
What do you want to be when you grow up?
A media maven, a travel writer, an esteemed author, a humanitarian, and a professor. Yes, all of the above.
(She'll definitely achieve it. She's probably the most determined person I know. She achieves whatever she puts her mind to.)
I hope you enjoyed meeting Alex! Seriously, check out her blog. It's one of my favorite reads. She has some definite skill -- and puts it to good use!
XOXO.